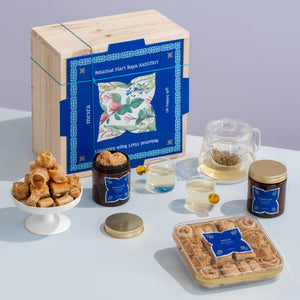 Mesra - Wooden Carrier
Sale price Price RM188.00 MYR Regular price Unit price / per
Mesra is a timeless wooden carrier. Comes with a filter glass tea pot and two round knob amber glass cups. Serve up our pick of bakes with our long oval tray. A perfect tea-time experience for all of the season's celebratory.

Each decorated with preserved hydrangeas. Leave us a note to personalized your carrier with our engraving services.
- Wooden Carrier
- Glass Tea Pot
- Glass Cup Set Of Two
- Oval Tray
- Assorted Baklava
- Pineapple Gem

- Chocolate Chip

Pre-order basis. Delivery takes up to 3-5 working days.